Borger High School
Class Of 1958
In Memory
Jerry Forrest VIEW PROFILE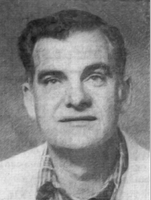 Jerry Dean Forrest
Borger News Herald - Thursday, May 26, 1994

CANUTE, Okla - Sanford resident Jerry Dean Forrest, 55, died in a one car accident early Wednesday morning near Canute, according to officials with the Oklahoma Highway Patrol.

Forrest was killed one mile west of Canute on Interstate-40. A spokesman in Oklahoma said the accident occurred at 2 a.m. Wednesday when Forrest's car, a 1982 Mercedes, was traveling west on I-40. Officials say the car ran off the road on the north side, going into a slide and becoming airborn before over-turning twice. Forrest was ejected through the sunroof and was pronounced dead at the scene of the accident.

Funeral services willl be at 11 a.m. Saturday at the First Southern Baptist Church of Fritch with the Rev. Calvin Newton, pastor of First Assembly of God in Borger, and the Rev. Orville Rogers, pastor of First Baptist Church in Stinnett, officiating.

Burial will be in Westlawn Memorial Park Cemetery under the direction of Minton/Chatwell Funeral Directors of Fritch.

Mr. Forrest was the owner-operator of the Cross Roads Lab in Sanford. He was a native of Borger and a lifetime resident of Hutchinson County.

He was a Baptist and family and friends say he supported many community charity organizations in Sanford and Hutchinson County.

Mr. Forrest married Cynthia Nelson on Feb. 14, 1971 in Phillips.

He was preceded in death by two sons, Jacob David, in 1984, and Joseph Daniel, in 1986.

Survivors include his wife, Cynthia Forrest, of the home; his parents, Mr. and Mrs. Dean Forrest, of Sanford; three sons, Jay, Jason and Justin, all of the home; four daughters, Christy Munoz, of Borger, Sarah Forrest, of the home, and Vickie Wade and Ginny Forrest, both of Albuquerque, N.M.; one brother, Bobby Forrest, of Borger; one sister, Sharron Orr, of Stinnett; his grandmother, Alma Pendergraft, of Fritch; and two grandchildren.
Click here to see Jerry's last Profile entry.