Borger High School
Class Of 1958
In Memory
Geraldine Platt VIEW PROFILE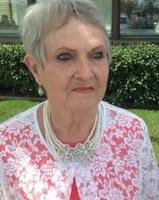 Geraldine "Geri" Platt
March 3, 1939
~
November 6, 2019
Geraldine "Geri" Platt, 80, of Amarillo passed away Wednesday November 06, 2019 in Amarillo surrounded by her family.

Graveside memorial services will be 2:00 PM Friday, November 8, 2019, at Llano Cemetery with Pastor Bob Miller officiating. Arrangements are under the direction of Lagrone Blackburn-Shaw Funeral Directors of Amarillo.

Geri was born in Borger Texas to Marion and LeeBell Platt on March 3, 1939. She enjoyed playing and swimming with her siblings. Geri loved fashion, hair and make-up,and being well put together was very important to her. As Geri grew into adulthood her family remained the focus of her life and she devoted her time and energy to them. She would later go on to be the main care-giver to her mother, and her twin sister. She enjoyed cooking and was always up for sharing a meal with her siblings. Geri was preceeded in death by her parents, and her twin sister Dorothy Earline Platt.

Survivors include three brothers, Vernon Joe Platt and wife Freda of Tyler; Charles Thomas Platt of Austin; Paul David Platt and his wife Carol of Amarillo. One sister Lela Delores Reed and her husband Jerald of Logan, New Mexico. Geraldine was loved by several nieces and nephews, along with a host of friends.
(Published by LaGrone-Blackburn-Shaw Funeral Directgors, November 7, 2019)
Click here to see Geraldine's last Profile entry.